Trans XXX Chat
Trans XXX Chat: Join Free | Who's Online | Login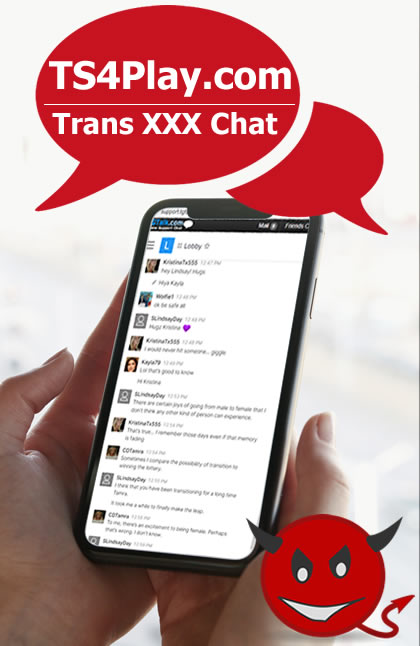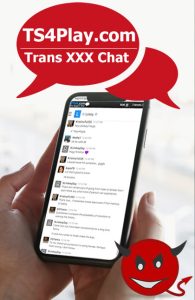 New! Trans XXX Chat is a great way to meet transsexuals, crossdressers, shemales and transgender hotties online. Come join sexy adults in the XXX chat and social network designed specifically for the trans community. This adult-oriented trans chat and social network was designed for transsexuals, crossdressers, trans admirers and anyone exploring trans attraction.
Join the trans chat free and log in any time of the day or night for sexy chat with your new friends. Your 100% free membership provides instant access to all features of our social network platform.  Continued Below
Trans XXX Chat & Social Network
ADULT CONTENT WARNING: This is an uncensored adult-oriented trans XXX chat and social networking platform.  
Photo Galleries | Search Profiles | Who's Online | Who's Chatting | Browse All Profiles
Once you sign into TS4Play's trans xxx chat you will meet some sexy new friends who understand transgender attraction. Unlike many trans chat rooms, the TS4Play trans XXX chat is designed so trans people and admirers can explore their sexuality in a safe, supportive environment. It's friendly and fun, and you'll meet sexy new friends. Our members identify as transgender, transsexuals, shemales, tranny, crossdressers and nonbinary. You will have the opportunity to explore the delicious variety of the trans community!
TS4Play trans XXX chats are inclusive. We welcome MtF, FtM, pre-op, post-op and non-op transsexuals, crossdressers, shemales and nonbinary members. We also welcome straight, gay, bisexual, pansexual, genetic males, genetic females, and trans admirers. The chat rooms are very friendly but we must have a few basic rules to facilitate smooth communication on our social platform. We don't impose a lot of rules, but we ask that you review the simple rules and comply with moderator requests. Contact a moderator in the chat rooms if you need help or encounter problems.
Transgender XXX Chat & Social Features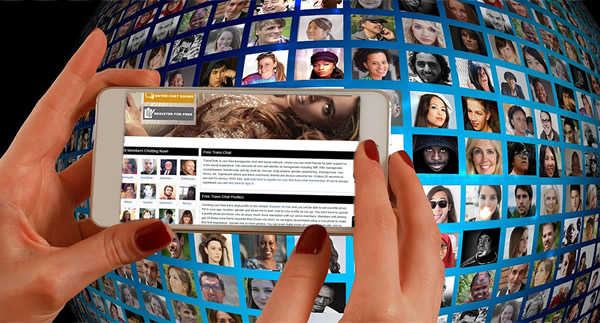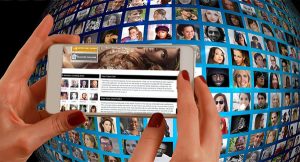 Trans XXX chat rooms provide a great place to meet sexy new friends but there's an entire suite of other social networking features! Search thousands of member profiles, sorting by location, age, or common interests. You can swap private messages and photos with other members. Maintain your personal privacy with our private messaging system.
Upload as many photos as you wish. Keep your photos public or private. You will be able to unlock your hottest private pics for any other members anytime you want. Who doesn't love sexy pictures?! Once you're done with live chat and private messaging you can browse the trans forums for a variety of adult topics.
Trans Girls Dating Advice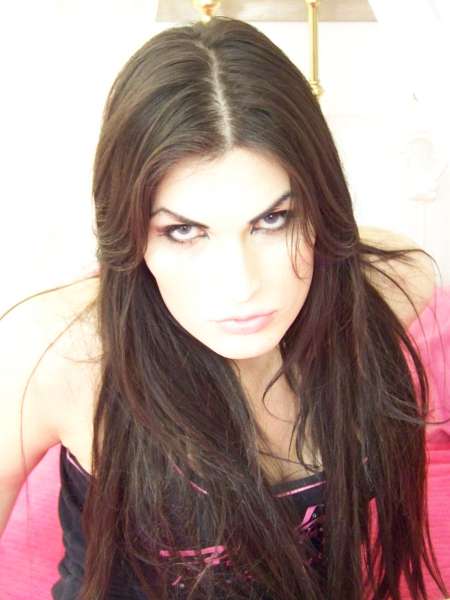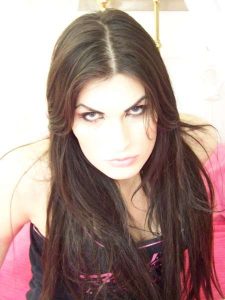 Amber Lynn is a popular online dating coach for the transgender community. She offers a free downloadable Trans Admirers Guide (PDF) with helpful transgender definitions and plenty of tips for successful dating and social interactions. Our friend Amber Lynn is a transgender dating coach who offers free tips and advice for trans admirers. This is a great way to learn how to skillfully navigate the sometimes confusing variety of transgender people.
A little understanding and grounding in the right terminology goes a long way as you explore trans sexuality. Avoid the stumbling blocks many guys encounter when they unintentionally insult trans women. It's not difficult so read these tips to get a great start.
Looking for Transgender Support Chat?
If you're a transgender person then you may not be interested in adult trans chat. We totally understand that and want to provide an alternative chat where you can find transgender peer support chat rooms.  We highly recommend TGTalk.com's transgender support chat where you'll meet other trans folks and can chat in a relaxed, supportive environment. The trans support chat platform is designed for transgender people, significant others, caring professionals and community allies. Inside support chat, you will also find all the social networking features to browse trans member profiles, send private messages, swap photos, etc.
Webmasters: Free Transexual Chat Software!
Free transexual chat for your website plus 50% lifetime commissions
Free transexual chat software is available for webmasters at ChatChecks.com. Provide value-added chat community features for your site visitors including live chat, photo profiles, private messaging, internal emails, galleries, photo sharing, message forums, and blogs. No special coding is necessary. Install your chat community in minutes, customized to match the look and feel of your site. ChatChecks hosts and maintains your chat community so you can focus on running your website.
Ads are shown in the transexual chat members area. These targeted ads enhance the user experience and convert very well among the trans niche and admirers. Affiliate webmasters receive a 50% lifetime commission for all advertising revenue generated from their referrals. Chat Checks also pays 5% lifetime recurring commissions for any webmaster friends you refer to the network.
ChatChecks.com also provides transexual content for your website. Add member profiles, photo galleries and blogs directly on your website for your members to enjoy and for the search engines to index. This is a great way to get free content and more search traffic!
Thank You TransChatr.com!
TS4Play.com appreciates the assistance and support of Trans Chatr and ChatrNetwork.com as we have worked to develop our chat rooms.